The science application ESMira was specially developed at the Karl Landsteiner University of Health Sciences (KL) for scientific ESM studies and is improved regularly. The app was developed to fulfil scientific requirements such as the presentation of an informed consent, data security (data is transferred via encryption to the KL server), and anonymity (randomized participant number). Furthermore, ESMira does not evaluate any sensor data or other personal settings (e.g. the telephone number) or personal settings (e.g., number of apps installed).
The app has several features such as multiple language versions, personalization of the timing of prompts ("bings") or graphical feedback for participants. It is also possible to send anonymous messages to the researcher. Participation in the study can be terminated at any time with the option "quit study".
ESMira can be installed free of charge via the Play Store on Android smartphones or on iPhones via the App Store. Access to projects can be restricted by using keywords (i.e. only participants who know the keyword have access to the study).
Statistics on studies that are currently in progress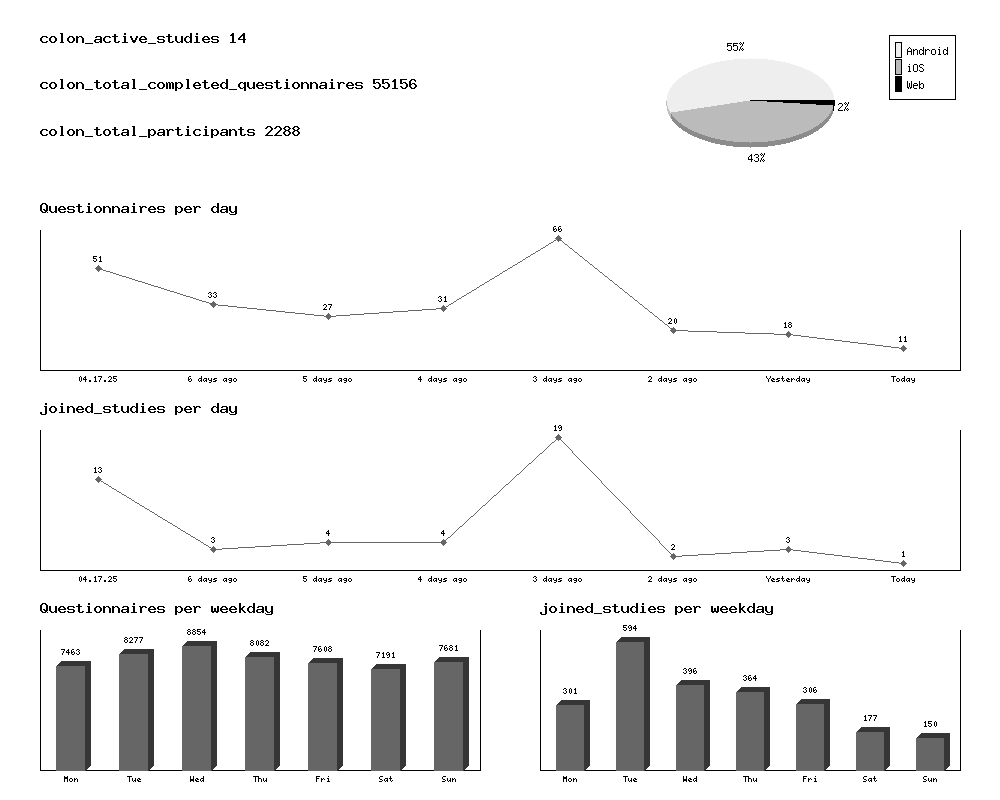 Advantages
Without technical knowledge
Only minimal IT knowledge is required to set up your own server. The corresponding files are uploaded to the webspace and the personal ESMira server is ready to use!
No need to create your own app
There is no need to create your own version of the Android or iPhone app in the store. A generally available app can be used by different researchers with different servers.
Easy setup
Studies can be conveniently set up and managed via a separate web interface. The study data can then be downloaded directly via the web interface or viewed via a separate data viewer.
Variety of options
ESMira allows a rich variety of configuration options. Questionnaires offer a wide range of different input options and notifications can be triggered by various events and/or complex schedules.
Hidden or public studies
It is possible to make studies either publicly accessible or to protect them with access codes.
Anonymity for study participants
The use of ESMira is absolutely anonymous. Each user is assigned a randomly generated ID that cannot be traced back to him or her.
Up to date
ESMira is actively developed and tested and is widely used in our own projects.
Privacy policy
The researcher keeps full control over the study data. The app only sends data to the corresponding study server. No data is sent to third parties (such as Google, Apple or the app developer).
Anonymous communication
Anonymous essages can be sent to study participants (individually or to all) via the web interface without the need for direct contact with the participants.
Subsequent updates
ESMira automatically checks for new updates during studies and ensures that users always have the latest configurations installed.
In App Statistics
Users can receive general and personal statistics directly and anonymously in the app.
Multiplatform
It runs on Android and IOS. There is also a web version of the questionnaires, which is optimized for smartphones and very old browsers.
Native application
The apps were developed directly for the respective platform and do not use frameworks from third party providers.
Open source
The source code of ESMira is available (from about 2021) via Github and is actively maintained.
Feedback and contributions for further development are welcome.
For more information, see Wiki.
The following screenshots provide a quick overview of the science application ESMira
| | | |
| --- | --- | --- |
| Start screen of ESMira | Keyword restricted access | Short information about an example study |
| © Psychological Methodology | © Psychological Methodology | © Psychologische Methodenlehre |
| Example Informed Consent | List of questionnaires | Example questionnaire |
| © Psychological Methodology | © Psychologische Methodenlehre | © Psychologische Methodenlehre |
Publications
Götz*, F. M., Stieger*, S., Ebert, T., Rentfrow, P. J., & Lewetz, D. (2020). What drives our emotions when we watch sporting events? An ESM study on the affective experience of German spectators during the 2018 FIFA World Cup. Collabra: Psychology, 6(1), 15. doi:10.1525/collabra.262 Retrieved from osf.io/r7vxp *both authors contributed equally
Downloads
Overview ESMira (German version)